One of the top Lake Minnetonka realtors, Tim Landon,  branches out to Jubilee Foods.  If you have

 recently shopped at Jubilee Foods in Mound, MN you may have been greeted by your Lake Minnetonka Neighborhood Realtor.   As you push your cart down the aisles just scan the QR code on this ad to learn more about Tim and his real estate savvy.   You will learn Tim has been helping clients buy and sell homes for over 24 years.  If you are interested in the Lake Minnetonka area Tim is the real estate for you!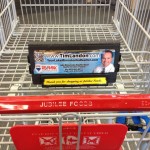 When looking to buy or sell a Lake Minnetonka home it is important to find a real estate agent who knows the area.  If you live in the Lake Minnetonka area or are looking to move into the area Tim Landon can and will make it possible.  Tim has lived in the area for over 40 years, owned three homes on the lake himself, and sold over 100 lake homes on Lake Minnetonka!  Tim is a highly reliable, seasoned real estate agent who knows how to buy and sell real estate in today's market.  He is there to service his buyers and sellers to make each transaction seamless.  Tim's past clients would agree.  Click on CLIENT TESTIMONIALS  to read what his client's have said about his real estate knowledge and experience with their home transactions.

For help with your real estate needs in the Lake Minnetonka or west suburban area contact Tim Landon at 612-978-5471 or email him with your inquiries at TimDLandon@gmail.com.