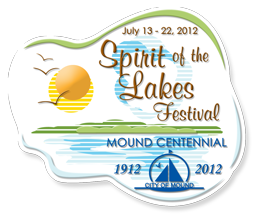 Let the celebration of the Mound Centennial begin with the annual Spirit of the Lakes Festival!
Mound, Minnesota a small town made up of about 9,000 people just outside the heart of the Minneapolis suburbs and right on Lake Minnetonka is celebrating like no other.  The annual Spirit of the Lakes Festival is normally a four-day event, but being this year is the centennial celebrations it will go on for ten days and many of the activities taking place at Surfside park and beach.
There is a lot to do, check out this event calendar to see.  For activities Mound is offering beach volleyball, non-competitive 5K and 10K walk, competitive 5k and 10k run, adult triathlon, kids bike and run, kids fishing tournaments, skateboard competitions and more!
For entertainment there is a variety of live bands and dances (even square dancing!).  There is always Thursday's Music in the Park (Surf Side Park) to come and listen to but in addition there are bands and dances both Friday and Saturday night.  The music tends to play until 11 pm or midnight.  There is a Beach Bar, Tiki Bar , beer tasting and wind and sake tasting for adults to partake in, in addition to a wide variety of food vendors too.
For kids there are two parades: kiddie parade Thursday evening and grand parade Saturday morning.  (I will be in the parade with Remax Advantage Plus and giving out pens, can coolers, magnets and Mr. Freezy pops.) Kids will also love to check out the kids arts & crafts and other various activities.  If they can stay up past 9 pm, kids (and adults alike) will not want to miss the Fire Dancers and Fireworks show at dusk. Personally, I've seen this show year after year and it NEVER disappoints!
As you can tell, the annual Mound Spirit of the Lakes Festival and Centennial Celebration has MUCH to offer.  I take part every year as a volunteer, family man and businessman (come check out the Remax booth and see the Remax hot air balloon get launched!).  I would not miss this great celebration and I hope you will not either!