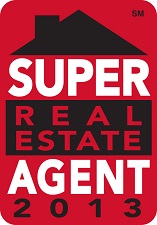 Tim Landon, Lake Minnetonka Real Estate Agent for over 25 years, was recently named Super Real Estate Agent 2013!  In addition to receiving this honor, Tim was also interviewed by The Laker & The Pioneer newspaper for the November 18th edition (click for the interview).

Only 3%-5% of Real Estate Agents are awarded the Super Real Estate Agent title  and they are deemed to be  one of the best Real Estate Agents in Minnesota.  To become a Super Real Estate Agent, one is first nominated by members of the Twin Cities community.  Agents must then pass a screening process and then are reviewed by a panel of 20 real estate industry experts.  Following these stages agents are awarded the title Super Real Estate Agent and appear in the November issue of the Minneapolis St. Paul Magazine and Twin Cities Business.
If you are looking for a Real Estate Agent to help you buy or sell a home in the Lake Minnetonka area, Tim Landon is the agent for you! Having sold over 100 homes on Lake Minnetonka, lived in the area for over 40 years, and owned three homes on Lake Minnetonka it is clear Tim knows the Lake Minnetonka Area!   Let Tim put his experience to work for you!